Copyright ©, The Groundhog, All Rights Reserved
HOW TO READ A PDF

Our papers are available for online reading in files called PDF, which are read by Adobe Acrobat or Adobe Reader. If you have Acrobat, you probably need no instruction. For those with the Reader, we've provided a little instruction below. To skip down to the papers,
CLICK HERE
.
The Reader has many options, but some that you might want are:

- Resizing: Note where it says 125% in the figure below - you can change that.

- Reading: You can simply scroll down or "grab" the page with your mouse and push it up; you can use the arrow next to 1/24 to go down one page at a time, or you can use the bookmarks. Read about bookmarks below the figure.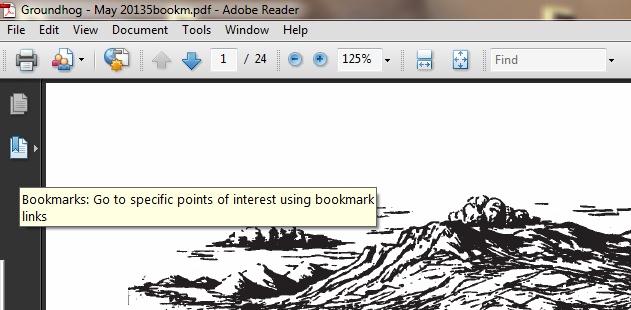 Bookmarks:  In the figure above, you'll see the page with what looks like a bookmark hanging on it (right above the "Bookmarks:" note). Click that icon and the Bookmarks will appear, as shown in the figure on the right. Clicking on a bookmark will jump to that page. If you close the file then re-open it, the display will be on the page you last read. Each issue of The Groundhog will include bookmarks, except the first issue from 1983 listed below.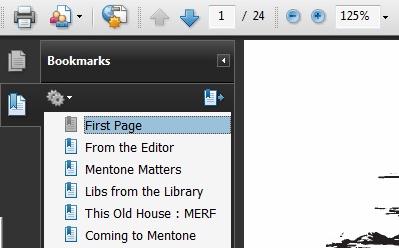 OUR PAPERS

All of the informaition below is to explain how to work with a PDF. If you already know,
CLICK HERE
to go read issues of The Groundhog.